We are an independent software company specializing in Enterprise Architecture since 2006. We are a pure-player for EA tools and EA Composer is our only software product. Our motto is to focus on one thing and do that really well so you can focus on architecture.  
We also believe that you shouldn't have to worry about upgrades, new hardware or testing new releases. Our software is cloud hosted, fully web-based (no client installs) and using monthly subscriptions.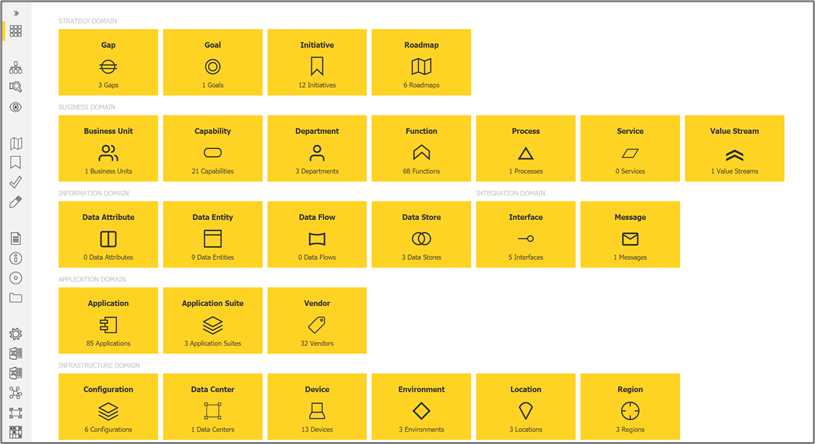 True SaaS
EA Composer was built from scratch as a pure web-based product. Only using clean HTML5 and JavaScript. No installs or plugins required.  With our cloud deployment you will never have to worry about upgrades, hardware refreshes or any other kind of software maintenance.  You access is instant. Monthly releases will bring new features you can immediately leverage.
Our design is fresh and innovative using the latest User Interface trends. Screens are responsive based on the device used. We support all major browsers, but we recommend using Google Chrome or Mozilla Firefox as they provide the best experience
Architecture Portfolio
With EA Composer you store your entire architecture portfolio in one convenient location, simplifying the way you manage your architecture assets.  This typically includes your applications, interfaces and many more, the choice is yours and depends on which assets you are interested in most.
Each asset in your repository has a metamodel driven data sheet which includes:
Basic information such as name, description, status
Properties & Metrics as defined in the metamodel, easy to add your own
Relationships to other assets like Applications and Interfaces
Attach documents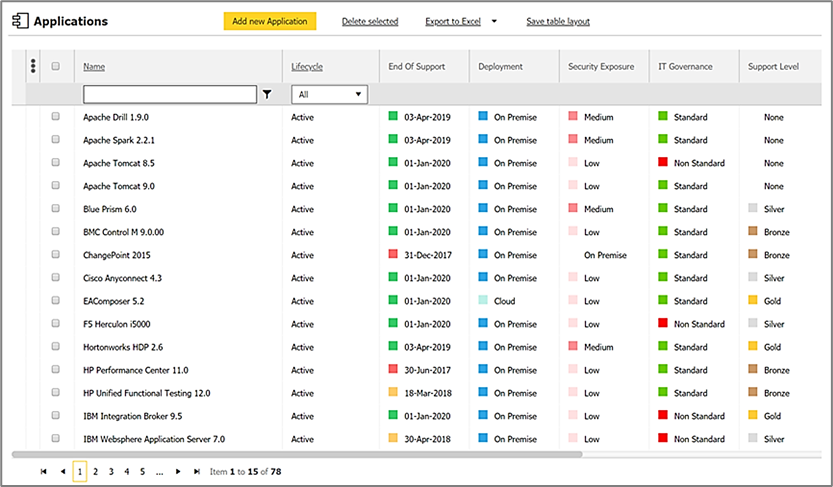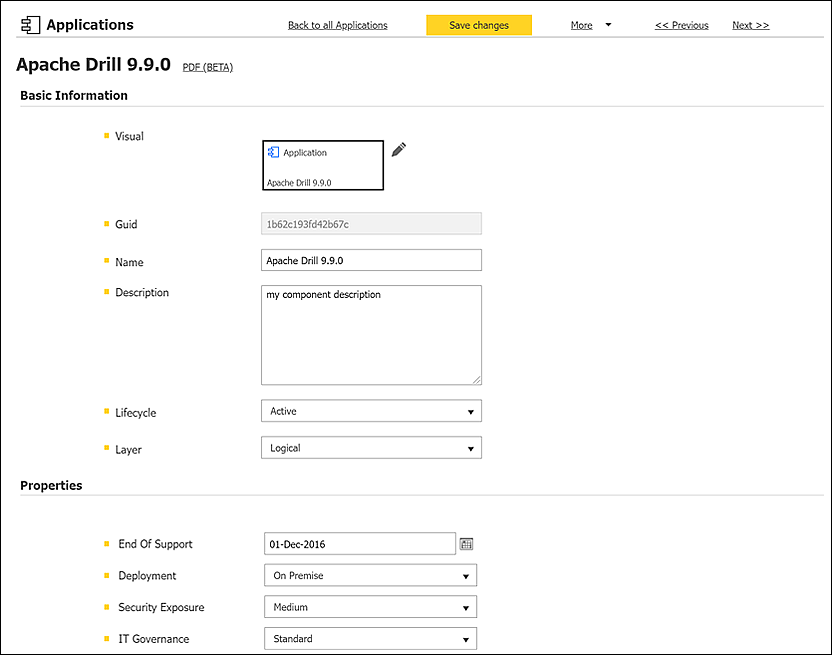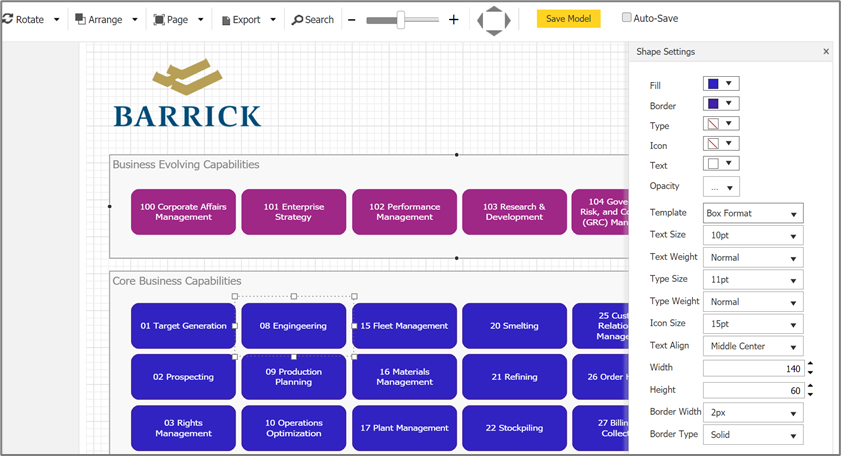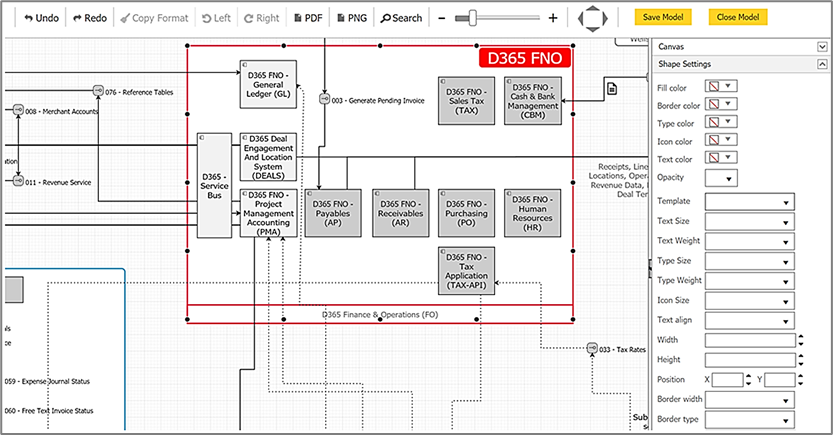 Visual Modeler
One of our strongest features is an integrated visual modeler. A browser based modeler using the latest HTML5 drawing capabilities that is truly an-par with Visio.  Create stunning visual models suitable for business presentations or more technical architecture views like integration and infrastructure diagrams.  All real-time integrated with your architecture portfolio and repository.
Reporting & Analysis
An easy-to-use reporting & analysis feature with out-of-the-box report types that you can leverage in a matter of seconds. No SQL required.  10+ different reports types and we also include 40+ actual reports all for you to leverage and start obtaining insight in your architecture.  Popular report types include matrix reports, catalogs, landscape views, impact analysis, charts and more.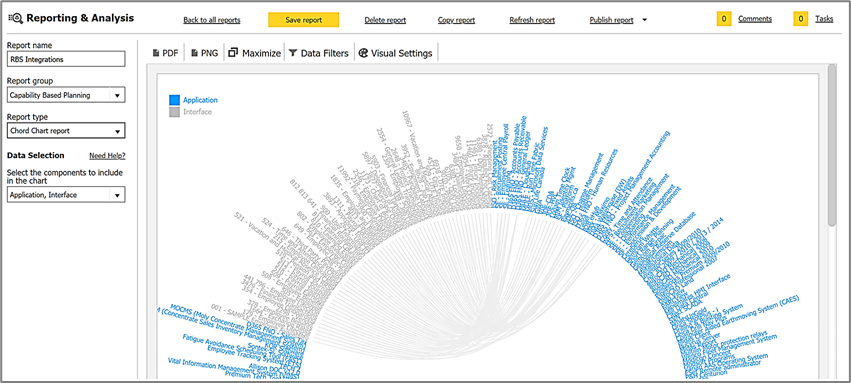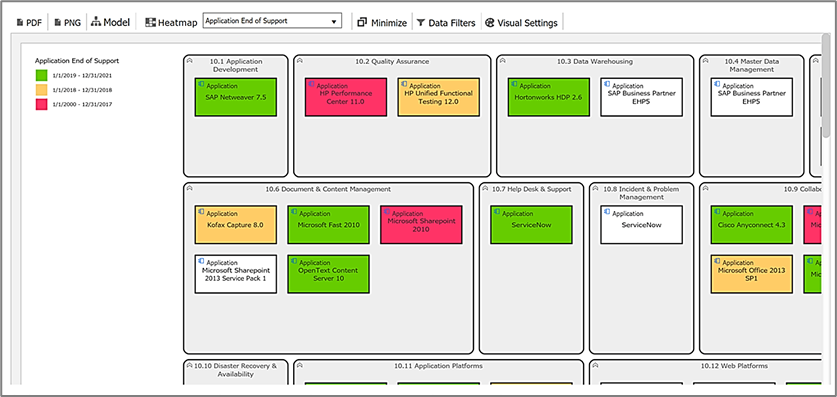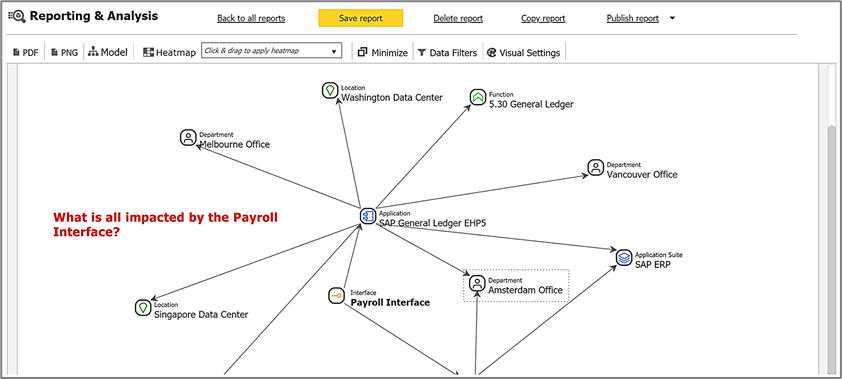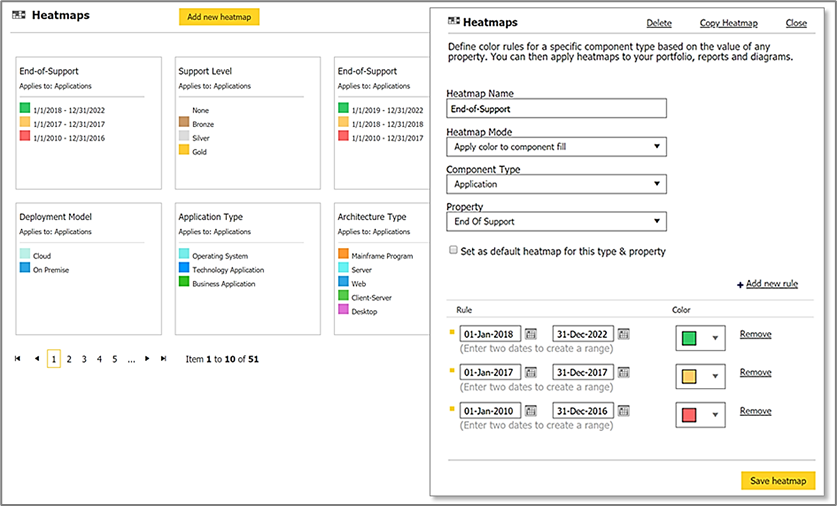 Heatmaps
Leverage 50+ out of the box heatmaps or create your own.  Industry best practice heatmaps, used by most organizations, are included by default. 
Applying a heatmap simply means you click-&-drag the heatmap onto the report.
Plan Roadmaps
Plan your EA roadmaps with an interactive Gantt chart feature.  Add your initiatives, dependencies and group these by business outcome driven themes.
Functionality includes:
Interactive and dynamic Gantt charts, meaning changes to dates and duration automatically get updated in the Gantt chart timeline ,
Use color coded themes to visually group initiatives together, often to reflect a certain business outcome.
Drag & drop to assign initiatives to themes, change the order or draw dependencies
Export to PDF to share to external users & stakeholders.
Be able to drill down behind each initiative and see the underlying data: what applications are impacted, what gaps does it address, who is the owner etc.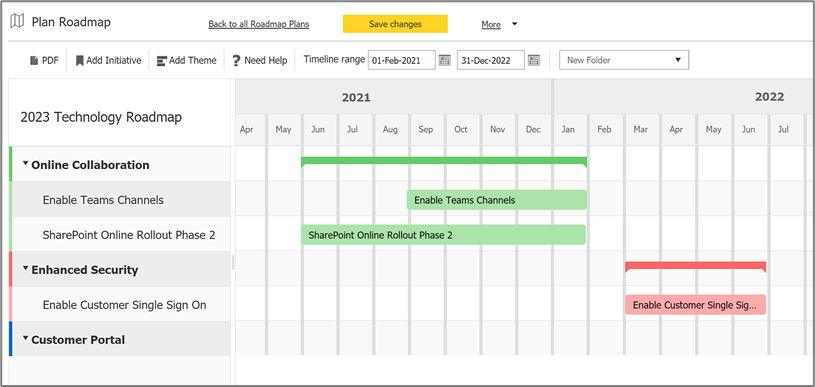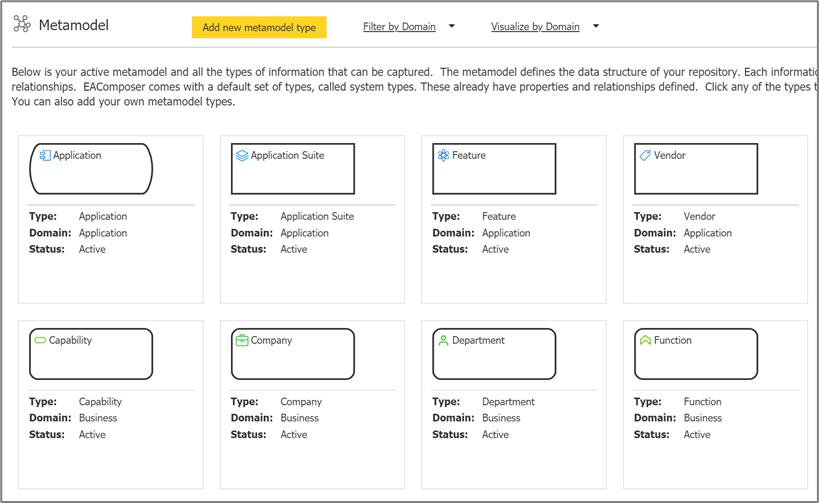 Metamodel
EA Composer comes with a fully featured metamodel to jumpstart your implementation. Our model is based on 15+ years of practical experience. 
Key to a good metamodel feature are:
strong default metamodel as a starting point for you to leverage
allow for flexibility to add your own information needs like new types and/or new properties and metrics.
easy to absorb future changes to the default metamodel so you can continue to leverage these changes
easy use the metamodel especially in reporting needs, keep it simple.
Excel Import & Export
Included is an Excel import wizard. A great way to upload any existing content you have into EA Composer e.g. your list of applications, servers, business functions etc.  The import wizard can also be used to update components which is ideal if you want to batch update multiple components.    
From your portfolio section you can export any of the assets you would like.  A great way to perform batch updates is to export a certain type of asset and make your changes in Excel and then import the same sheet with the changes.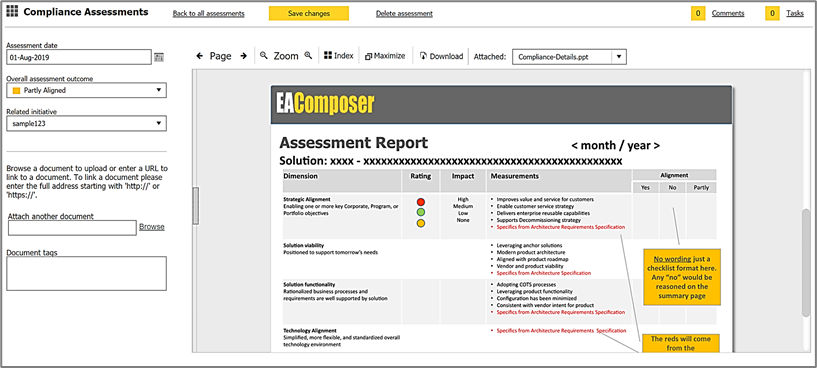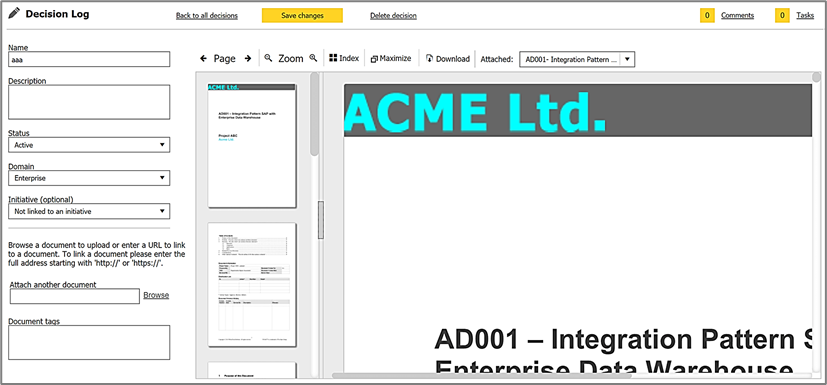 Architecture Governance
Support for Architecture Governance is broken down into two key features:
To ensure projects and initiatives are aligned with architecture standards, roadmaps and strategies we have included a Compliance Assessment feature
To ensure that all architecture decisions made are properly managed we have included a Decision Log feature.
Apply architecture Compliance Assessments against projects and initiatives. Included is a default compliance assessment report that you can leverage or if you have your own assessment criteria you can also upload this as an attached artifacts. A single place to manage the architecture compliance across your landscape.
The second part of architecture governance is to manage the architecture decisions, often made via projects and initiatives. A single place we call the architecture Decision Log. Also comes with a predefined template for you to document your decisions (or to upload your own template for decisions).
TOGAF
EAComposer brings the most complete TOGAF support of all EA tools in the market today. We fully support the TOGAF ADM, the core of what TOGAF is all about.  Tailor your TOGAF to your organization's need and then apply it to projects and initiatives to ensure high quality and consistent outputs. If you are using EAComposer you are applying TOGAF!
We include 80+ real-life templates for all the artifacts that have been identified by TOGAF. You can leverage these right away. Of course you can also tailor the templates to your specific needs and requirements.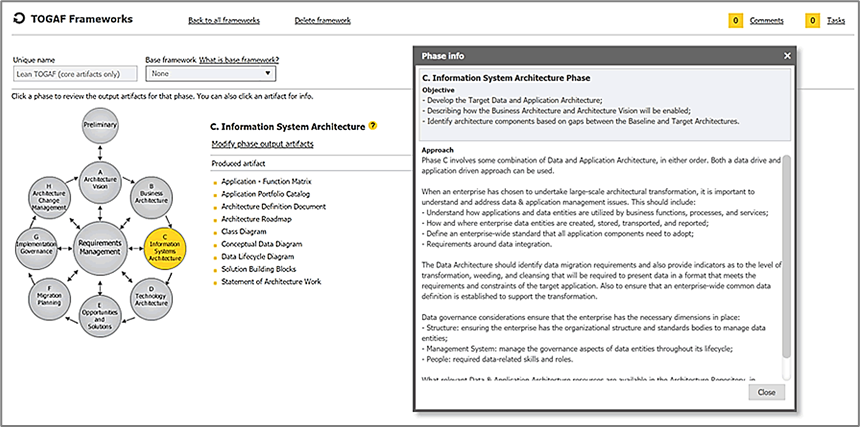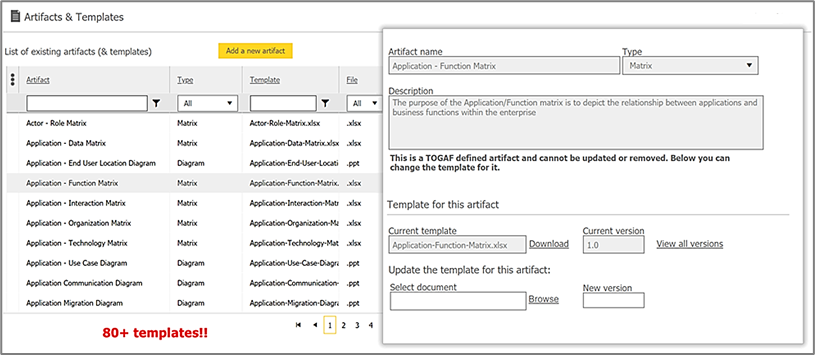 Execute Initiaitives
A single place to manage the initiatives in-flight.  These include technology strategy projects to which you want to apply the TOGAF ADM and produce the various artifacts.